Bathroom Remodeling in Decatur, IL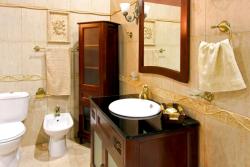 For homeowners in Decatur, IL, bathroom remodeling from HPL Construction can add years of life to your home. One of the telltale signs of aging in a home can be problems cropping up in your bathrooms. The bathrooms in your home can easily show more wear and tear than the rest of your home and can greatly reduce the resale value.
Perhaps you purchased your home with outdated bathrooms, promising to one day remodel. Maybe the tile is starting to look cracked and well worn and the grout is showing too much grime and grit. A remodel can be a daunting task, but easily attainable from our licensed and insured contractors. We can handle bathrooms of all sizes and styles, whether you're updating a powder room or completely remodeling a master bath.
Our company has been family owned and operated for the past 25 years and is a valued member of the Champaign Chamber of Commerce and ABC Builders Association. All of our work is performed by highly trained contractors and comes backed with a one year workmanship warranty. If you think the cost of remodeling and updating will be too expensive, think again. We offer competitive rates and customized solutions to suit your needs and budget.
If you live in Decatur, IL, bathroom remodeling is only a phone call away. Call the professionals at HPL Construction today.
Why Choose Us?
Fully Insured
Free Estimates
Prompt Project Completion
1 Year Workmanship Warranty
Competitive Rates
Family Owned & Operated
Stable Contracting Business For Over 25 Years
ABC Builders Association
Champaign Chamber Of Commerce
Call Today!
We'll be happy to answer any questions you have.
217-429-4773