Basement Remodeling in Decatur, IL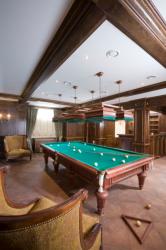 If you have an unfinished basement in Decatur, IL, basement remodeling services from HPL Construction can help. This area of your home can often be a forgotten, unused space. Why not maximize the value of your home by refurnishing this space into an area that suits your family's needs and lifestyle?
Our family owned and operated business has over 25 years of experience in remodels. Our trained professionals offer full service work, spanning construction, plumbing, electrical and lighting. This comprehensive approach can save you both time and money on your home improvement project.
All of our employees are carefully hand-picked based on their skill level and professionalism. We won't leave your home in disarray after your project is complete. We stay and ensure that the space is clean and ready for your use once the job is complete.
Our quality work comes backed with a one year workmanship warranty so you can rest easy knowing your investment is secure and guaranteed. As members of the Champaign Chamber of Commerce and ABC Builders Association, we hold ourselves to the highest standard of work possible. We are dedicated to providing you with the best quality services available and all at competitive, affordable prices.
Utilize every space in your home to its fullest extent. If you live in Decatur, IL, basement remodeling services from HPL Construction is the best way to start. Call our professionals today for more information!
Why Choose Us?
Fully Insured
Free Estimates
Prompt Project Completion
1 Year Workmanship Warranty
Competitive Rates
Family Owned & Operated
Stable Contracting Business For Over 25 Years
ABC Builders Association
Champaign Chamber Of Commerce
Call Today!
We'll be happy to answer any questions you have.
217-429-4773